RICHARD USSHER....pas vraiment une surprise à ROTH
Peu d'initiés (comprendre triathlètes") connaissent ce phénomène du raid multisport. Il a "presque" tout gagné sur tous les continents, en ce qui concerne les courses individuelles ou en équipe. Très fort surtout à VTT, ce néo-zélandais a crée la sensation sur l'Ironman de Roth (avec un gros marathon en particulier). Ci dessous les liens sur son dernier récits de la course , quelques photos et articles écrient sur lui précédement.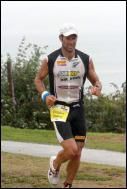 http://nouvellecaledonieaventure.over-blog.com/article-28729357.html
http://adventuresportnz.com/content/wp-content/plugins/fgallery/fim_photos.php
http://nouvellecaledonieaventure.over-blog.com/article-17238162.html
Former German age group athlete, now professional, Michael Göhner used his scintillating foot speed to destroy the hopes of his more experienced and better credentialled competitors to literally run away with the 2009 Quelle Challenge in Roth today.
Göhner has been knocking on the door with second places at Ironman South Africa in April and also the Ironman European Championships in Frankfurt last year, but his breakthrough long
distance win at Roth still came as a surprise to many of the 150,000 people lining the famous course.
The 29-year-old Göhner shattered his previous PB of 8:11 to record a sensational 7:55:53, reeling in Stadler and Aussie Pete Jacobs in the grueling marathon to sneak under the radar and record the best win of his career.
It was predicted that defending champion Patrick Vernay and German ace Normann Stadler would battle it out for the honours but it would never eventuate with Stadler finishing fourth and Vernay fifth.
Instead the day belonged to Göhner, Jacobs (second place for the second year) and Roth debutante and multiple world Adventure Racing championRichard Ussher of New Zealand, who came third.
Göhner excelled in the glorious race conditions and received a hero's welcome from the crowd, becoming the first German athlete to win the Quelle Challenge Roth title since Lothar Leder in 2003.
"It is an overwhelming feeling to have my first win over the long distance and also to be able to come back to Roth to celebrate my first national championship success. It is really wonderful."
Above all else, including the World Ironman Championships in Hawaii in October, Göhner's main priority for 2009 was to win in Roth.
"Previously I have finished second in Frankfurt but to win in Roth is
something special. Roth is about the community, the organisers, the people on the course and those of the local area, it is a great advertisement for the sport of triathlon."
But it was the manner in which Göhner won the race, with a 2:41 marathon, that impressed.


"There is a lot of talk before the race with people talking about their
expectations, but that is not my cup of tea. I like being the underdog and I am sure it will be difficult to be that way next year, but I will be prepared," he said.
Jacobs, third at his first attempt in Roth and second last year, thought early on the run it might have been his day, with a scorching 45:57 swim and a strong ride positioning him only six minutes off the back of Stadler at T2 and ready to pounce.
"The first 15km of the run went well. I was on good pace and felt
comfortable but I was still losing ground to Michael Göhner who was chasing me. I thought 'Gees, he is running really quick,' because I was running really quick."
"But then I started to slow down after 16 kilometres and it went downhill from there. Michael passed at about the 18km mark and I sat about 15m behind him and we went through halfway in 1:20."
"Oddly I never got a second wind and I just got slower and slower which was a bit disappointing. Michael just kept going away and I wasn't in the race from that point on and was in a lot of pain. Luckily I was putting time into Normann so I was safe."
With about 12 km to go Jacobs started to minimise the damage and just did what he needed to do to keep second place.
"I obviously want to get back into training for Hawaii so I didn't want to kill myself. I went easier in the last 10km but kept looking behind me all the time, holding something in reserve in case someone was closing on me
"The way I felt on the run I can't believe I have gone 8:02 and come second. When I think about that I am happy," he said.
Richard Ussher's third place was an outstanding result for a guy who says he only "dabbles" in long distance triathlon.
"It was fantastic to get the opportunity to race in Roth and the result was beyond anything I expected, it seems a bit unreal.
"I decided before the race to leave everything on the course and give it everything even if I blew up. During the first 70km of the bike I wasn't feeling very good but after receiving the support of the crowd on Solarer Berg I suddenly had a lot of energy and it last for a fair amount of the race."
"I never would have thought I would get an 8:02, so to do it in only my third race I am just rapt."
"Before the race I was thinking that I need to make a decision whether to continue with triathlon or not. But I have gone well here; I think I probably should keep doing some of them. Maybe Challenge Wanaka in January," Ussher said.
Roth
, Germany
; 12 July 2009
1) Michael Göhner (GER) 7:55:53 (50:30/4:21:25/2:41:17)
2) Pete Jacobs (AUS) 8:02:01 (45:57/4:23:47/2:49:13)
3) Richard Ussher (NZL) 8:02:15 (50:31/4:22:02/2:46:58)
4) Normann Stadler (GER) 8:03:43 (48:56/4:14:42/2:5:51)
5) Patrick Vernay (NCL) 8:03:46 (47:44/4:25:08/2:48:05)
6) Olaf Sabatschus (GER) 8:06:01 (50:31/4:22:21/2:50:22)
7) Raynard Tissink (RSA) 8:07:18 (47:34/4:24:16/2:52:38)
8) Swen Sundberg (GER) 8:07:50 (50:27/4:21:48/2:53:10)
9) Luke Dragstra (CAN) 8:13:51 (49:02/4:24:05/2:58:10)
10) Petr Vabrousek (CZE) 8:15:03 (53:13/4:30:30/2:47:33)